Date/Time
Thursday, March 18, 2021, 7:00 pm – 8:30 pm
Location
Zoom
Denise Sandoval presents "Gardening with Native Plants through the Seasons"
Take a journey through the seasons to discover native plants every gardener should try because they are great for wildlife, grow well in a range of conditions and look beautiful in most gardens, including small-medium landscapes. Plus they're easy to find or purchase locally. Denise also shares some design tips for each, and a helpful handout summarizing this information.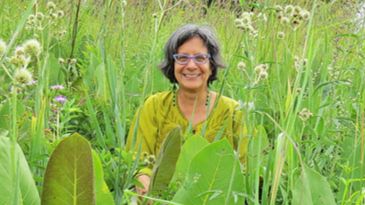 Denise Sandoval is an award winning landscape designer and owner of Good-Natured Landscapes LLC, featuring native plants since 2005. She discovered the beauty and benefits of native plants after volunteering at a prairie restoration, while working on her horticulture degree.Prior to starting her business, she worked at The (original) Natural Garden native plant nursery. She also worked as a Conservation@Home assistant. She served on the boards of Wild Ones Greater DuPage for 15 years and the DuPage Monarch Project. She's been gardening with native plants in her own yard for 18 years, performing prescribed burns, installing her first of many rain gardens in 2004, and collecting seed. The natural world is her greatest inspiration and teacher. Denise is excited to share her knowledge about these wonderful native plants!
A link to the Zoom meeting will be sent out in our newsletter the week of the event. If you have any questions on attending, please contact [email protected].