The DuPage Monarch Project, The Forest Preserve District of DuPage County, and the Sierra Club River Prairie Group are sponsoring a free class "Meet Nature Neighbors With iNaturalist" on Thursday, June 1st at 6:30 pm. This class which will teach you how to use iNaturalist to identify plants, bees, butterflies, and other pollinators. Using iNaturalist is a fun, easy way of being part of the solution to pollinator decline. Take a moment, take a picture and voila, your observation becomes data for research to help better understand changes in natural areas & ecosystems, the impacts of restoration and how pollinators are interacting with their habitat both remnant and new.
To sign up for this class click here.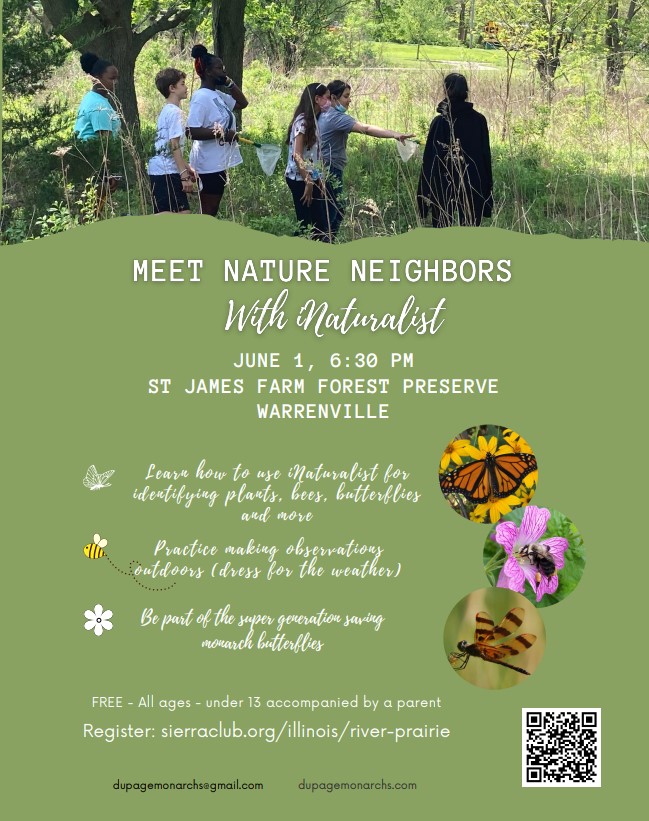 Pollinator Week is June 19-25 this year. It is a time to raise awareness for pollinators and spread the word about what we can do to protect them. There are many ways that you can celebrate and get involved such as planting a pollinator garden in your yard, volunteering at a local park or preserve, taking pictures of pollinators with iNaturalist, hosting a tour of your garden, or talking about the importance of pollinators with others. Visit dupagemonarchs.com/resources or dupage.wildones.org/pollinators for more resources on pollinators and tips on getting involved.