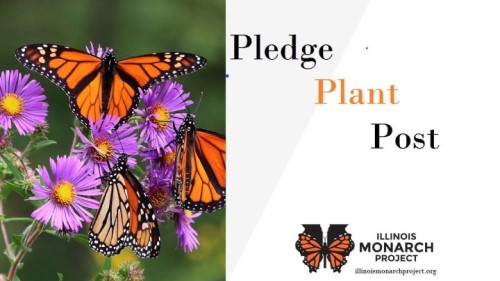 The Illinois Monarch Action Plan was signed into place by representatives of the Illinois Departments of Natural Resources, Transportation and Agriculture and the Environmental Protection Agency on September 24, 2020. The population of eastern monarch butterflies has declined by more than 80 percent over the past two decades. This plan will work to increase the population of monarchs and other pollinators by protecting and adding habitat and food sources including providing 150 million new milkweed stems and associated nectar resources in Illinois between 2014 and 2038. This plan was developed by the Illinois Monarch Project which brings together public agencies, private organizations, and residents of the state in collaboration to ensure the survival and successful migration of monarchs. The DuPage Monarch Project signed the Illinois Monarch Project Pledge and is one of the stakeholders of the Illinois Monarch Action Plan. Our chapter is a partner in the DuPage Monarch Project along with The Conservation Foundation, Forest Preserve District of DuPage County, and the Sierra Club River Prairie Group and we are very proud to support this plan.
You can watch the signing of this plan at https://www.facebook.com/IllinoisDNR/videos/3534089123297009/.
You can also take part in this project as an individual to support monarchs by taking the Illinois Monarch Project Pledge.
To learn more about the Illinois Monarch Project, Illinois Monarch Action Plan, and other valuable resources on monarchs visit the Illinois Monarch Project's website at http://illinoismonarchproject.org/.
To learn more about the DuPage Monarch Project visit https://dupagemonarchs.com/.